---
make your own clay beads
Learn to make and paint your own clay beads and accessorize your looks with your own unique creations.
---
When it comes to spring, the first images that pop into my mind are flowers and beautiful pastels!
So as we get ready to put away our winter clothes and dig out our summer wardrobes, I'm going to be looking to put some pops of colour into my look and the beads we'll be creating today.
What helps to inspire your style?
---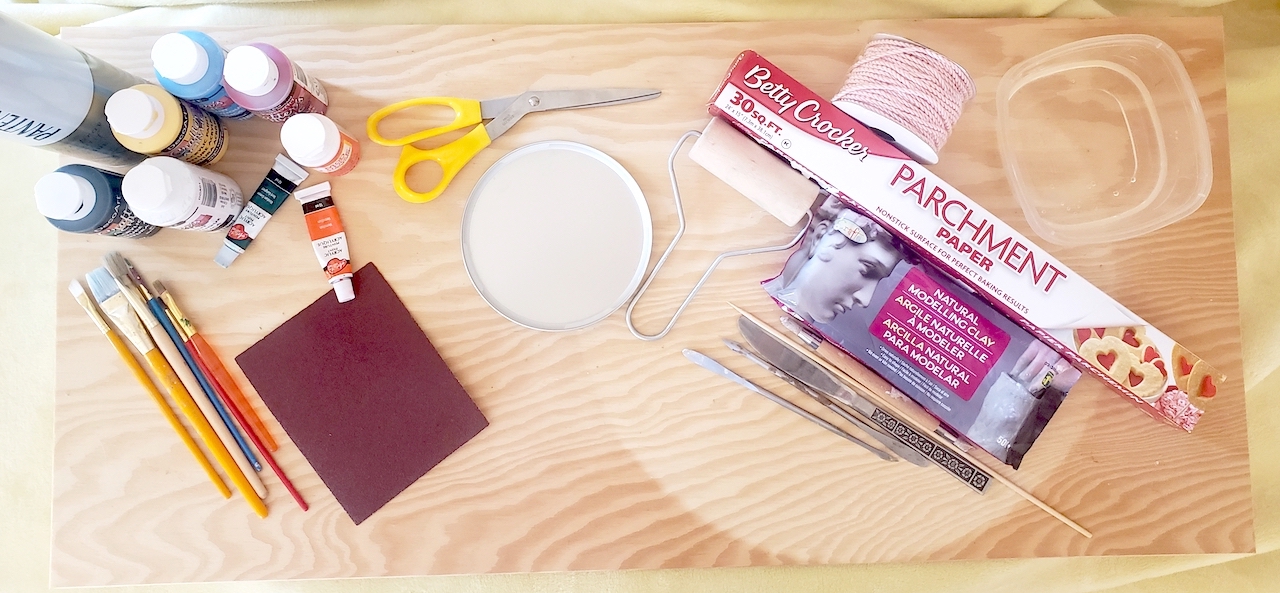 Air-dry clay (or experiment with our playdough recipe)
Clay tools or a butter knife
Toothpick or BBQ stick
Bead cord, yarn, string or chain
Scissors
Container with water
Sand paper
Mod Podge (hairspray can also act as a sealant)
Assorted acrylic paints
Assorted paint brushes
Optional: Parchment paper, dish soap, stickers, Q-tips, coloured Sharpies, painters tape
---
We recommend putting down a piece of parchment paper to work on so you can easily peal off your beads from the surface if they get stuck, and to keep your work area clean.
1. Tear off a hunk of your air-dry clay and split in into smaller individual pieces. Each piece should be roughly the size of a loonie. Each piece of clay will become an individual bead so tear off as many as you like. We recommend at least 5.


---
2. Roll each piece into a ball between your hands or using the table surface. Wet your hands to keep your shapes smooth and prevent the clay from drying out before needed.

3. Experiment with different shapes!

For longer beads, place your hand on the center of your beads and roll your hand back and forth until you reach your desired length.

For squares, diamonds or other geometric shapes, use a clay knife/butter knife or scissors to create sharp edges.
---
---
For more unique shapes like stars, hearts or tea drops, use the pinch pot technique. Using your index finger and thumb, pinch angles with your clay and then bend or smooth.

Gently press your shape onto the table to give your piece a flat surface on the front and back if desired.Remember to keep your hands wet to prevent your clay from cracking.
---
Keep your shapes simple, and make sure each bead is at least 1 cm or half an inch thick. If your shapes are too flat, you won't be able to create the hole to string them.
---
---
4. Once you are happy with your bead shapes, grab your toothpick or BBQ stick to create your holes.

Try to insert the stick as centrally as possible. It's helpful to put your clay on the table and press straight down until you reach the table.

Insert your pick into both sides of your bead to make sure your hole isn't narrower on one side over the other.
---
---
5. Leave your beads to dry overnight.

The clay we bought from Dollarama turns white when it dries, but to be safe you can leave your beads for up to 24 hours to dry.
---
---
6. After your beads have fully dried, we need to sand them to remove imperfections and create a better surface for us to paint. A finer grade sandpaper will work best. Be careful while sanding as your air-dry clay will be fragile (if you used playdough, you can skip this step).
---
---
7. Start by painting your beads with a primer of white acrylic paint. 8. Paint your beads with a base colour of your choosing. We've been inspired by spring pastels. We suggest doing at least two layers of the same colour. Note: Air-dry clay will absorb the paint very quickly. To avoid smudging, paint one side of your bead and then set it down for a few seconds to dry. Then turn over and paint the other side. This will be extremely important when it comes to finer details.
---
9. Create patterns to add extra flare to your pieces that make them more unique. Get creative!

We've listed some tips and techniques we used when designing our pieces.

Pro-tip: Don't worry if you make a mistake. Since our clay is so absorbent, you can paint over your bead completely and try again. So don't be afraid to experiment!
---
TECHNIQUES to experiment with
Apply small stickers for added dimension. This will work best on beads with flat surfaces to adhere to. We added white paint dots to our bead to tie it all together.
create clean edges with painters tape
Use painters tape to mark off clean lines to create a crisp edge for a simple pop.
Use metallic sharpies for an added dimension or use a permanent marker for small, fine details on intricate patterns.
We love simple shapes and Q-Tips are a great tool to make multiple circles for an effective design.
In a plastic dish with water, put several drops of dish soap and a few drops of paint. Place your bead in the bowl to catch the colours. Flip the bead to make sure all sides have grabbed some paint.
---
Disclaimer: We loved how the marble texture came out with our tear drop bead, but we weren't as in love with the star so we re-painted. Try to use contrasting colour for the best effect.
For our leaf and flower designs, we used our toothpick again to create finer lines. Remember to paint one side at a time and let dry so you don't smudge your beautiful work.
---
10. Once your paint has dried, apply a layer of Mod Podge to each bead to act as a sealant and provide some shine. Hairspray will also work to act as a sealant if you don't have Mod Podge on hand.
---
11. Now it's time to string your beads! Bead cord will work best, but if you are like us and don't have any on hand then string or yarn will also work. If you happen to have a spare necklace chain, it helps to create a polished look.

Be careful when stringing your beads! As we used air-dry clay - they can break if you try to force them roughly (we accidentally lost a bead trying to get it on a chain). Put a piece of tape on the end of your yarn to help glide the material through your bead holes.
---
---
12. Mix and match your beads!
---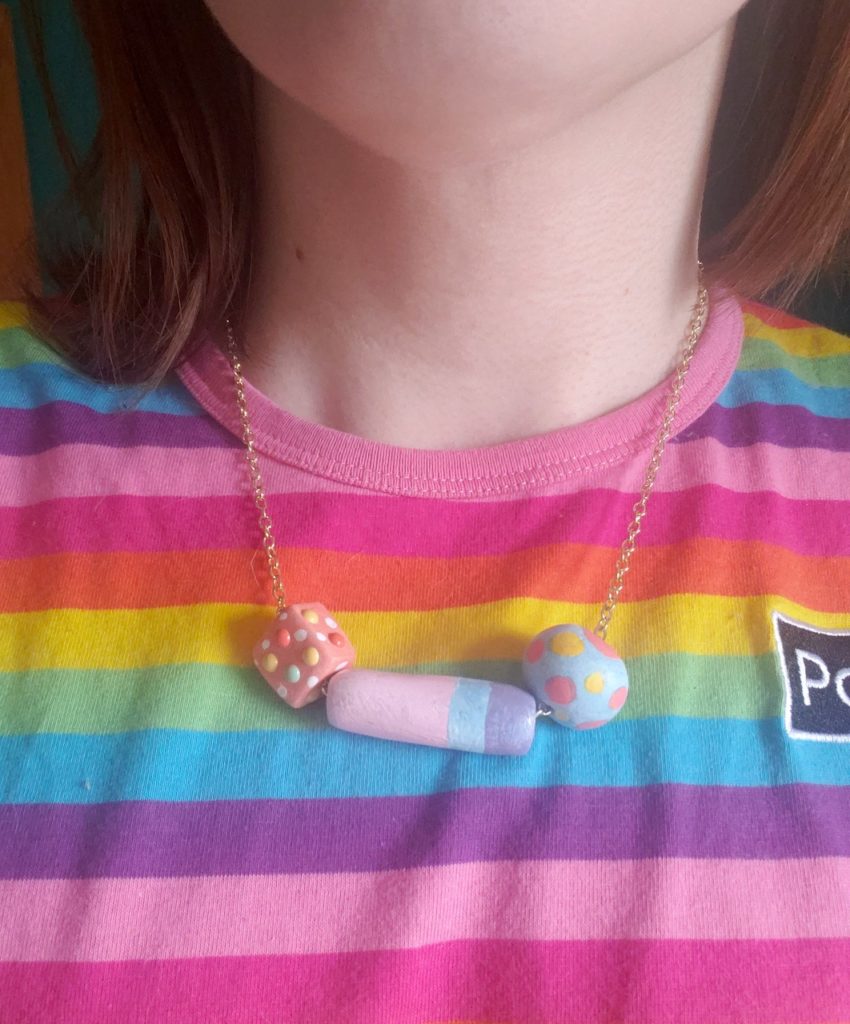 ---
They look great together or we also like the look of a single bead as a statement piece.
---
---
You can also use your beads for bracelets, rings, earrings or use them for decorations on other art projects, gifts, keychains and more!
---
We'd love to see your beautiful beads and necklaces! Leave us a comment below or share them with us on social media.