---
monster finger puppets
This is the second in our series of DIY art activities for kids.
---
There's a monster in your book
By Tom Fletcher
Look out! There is a monster in this book by bestselling author, YouTube star, and musician, Tom Fletcher! Fletcher and illustrator Greg Abbott have created a monster that readers will fall in love with--and want to play with--again and again!
SHOP LOCAL (SHIPPING AVAILABLE):
---
Paper towel roll (trimmed to any size)
Tissue paper (of various colours) cut into pieces
White School Glue (pour some glue into a plastic container and add a few drops of water to dilute it)
Glue Stick
Masking Tape
Pipe cleaners
Foam paper or construction paper (regular paper will work if you do not have these on hand)
Googley Eyes or buttons
Scissors
Paint Brush
Plastic Container for Water
---
1. In a plastic container pour some white school glue and add a few drops of water. The solution should be a little watery.2. Using the white glue solution like paint, cover the paper towel roll with a variety of tissue paper colours. Be sure to add a few layers so the colour is bright and concentrated. 3. Set aside to dry.
---
---
4. Using foam paper cut out hands and feet for your monster. You can even make ears and hair, etc.

5. Wrap pipe cleaners around your monster's body and twist to fix on. This will be the arms. For the legs, use masking tape to adhere the pipe cleaner to the interior of the bottom of the roll.
---
---
6. Cut out your monster's head using construction paper, coloured paper or cardstock. Will your monster have a round or square-shaped head or even multiple heads. You decide!

7. Give your creature eyes, a month, nose, ears, hair, etc. Paste features on with a gluestick.


---
8. Adhere your face with a piece of masking tape. 9. Now put your finger puppet into action!
---
---
What is your creature's name?
Where do they live?
What sounds does your creature make?
How do they move?
What do they eat?
---
Take classic children's songs and change the words to fit our monster theme. Some funs ones could include:

Five Little Monsters Jumping on the Bed
We're Going on a Monsters Hunt
The Monsters Go Marching
The Itsy Bitsy Monster
---
Write a story about your monster
Create a new language for your monster
Create an entire family of monsters
Design a home for your monster
---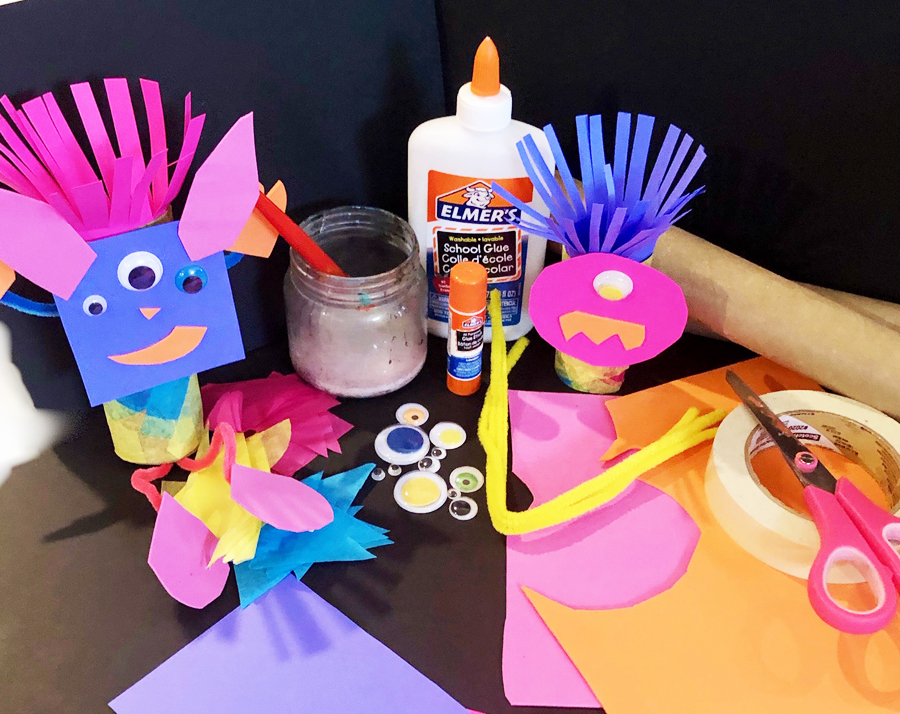 ---
We'd love to see your monsters! Leave us a comment below or share them with us on social media.