---
3d Flower
This is the fourth in our series of DIY art activities for kids.
---
PLANTING A RAINBOW
By lois ehlert
This educational and enjoyable book helps children understand how to plant bulbs, seeds, and seedlings, and nurture their growth. Lois Ehlert's bold collage illustrations include six pages of staggered width, presenting all the flowers of each color of the rainbow.
---
SHOP LOCAL (SHIPPING AVAILABLE):
---
Paper towel roll
Paper cup
Foamboard (white or black) or cardboard
Green tempera paint
Glue Stick
Pipe cleaners
Cardstock or watercolour paper (regular paper will work if you do not have these on hand)
Corrugated cardboard, foam paper or construction paper
Buttons or pompoms
Oil Pastel
Scissors
Glue gun
---
1A. With a pair of scissors or an x-acto knife cut a strip of foamboard or cardboard.

2A. Cut strips of the paper towel roll about 4" each.

3A. Cut the cup, about 4" from the top.
---
1. Paint your strip with green tempera paint.
---
---
2. Stick on any decorative items you have on hand. We had felt and foam paper. The tempera paint acts as glue so just press into to any wet spot.
---
---
3. Take a few pieces of green foam paper and colour with the oil pastel to make leaf-like patterns.
---
---
4. Glue on the leaves with a glue stick.5. Glue one of the paper towel roll strips about 3" below the top of the stem.
---
6. Using cardstock or watercolour paper (construction paper will work just fine), colour in with a variety of oil pastel colours.

7. Glue pieces of corrugated cardboard, buttons and pompoms into the centre of the paper cup.
---
---
for your adult - assembling your flower
4A. Cut strips of the coloured cardstock and glue them onto the paper towel roll strips. These will be the petals of our flower.

5A. Now with a hot glue gun glue each petal to the back of the paper cup.

6A. Hot glue the flower onto the paper towel roll of the stem. This gives our flower a more three-dimensional quality.
---
---
8. Now put your flower creation into action!
---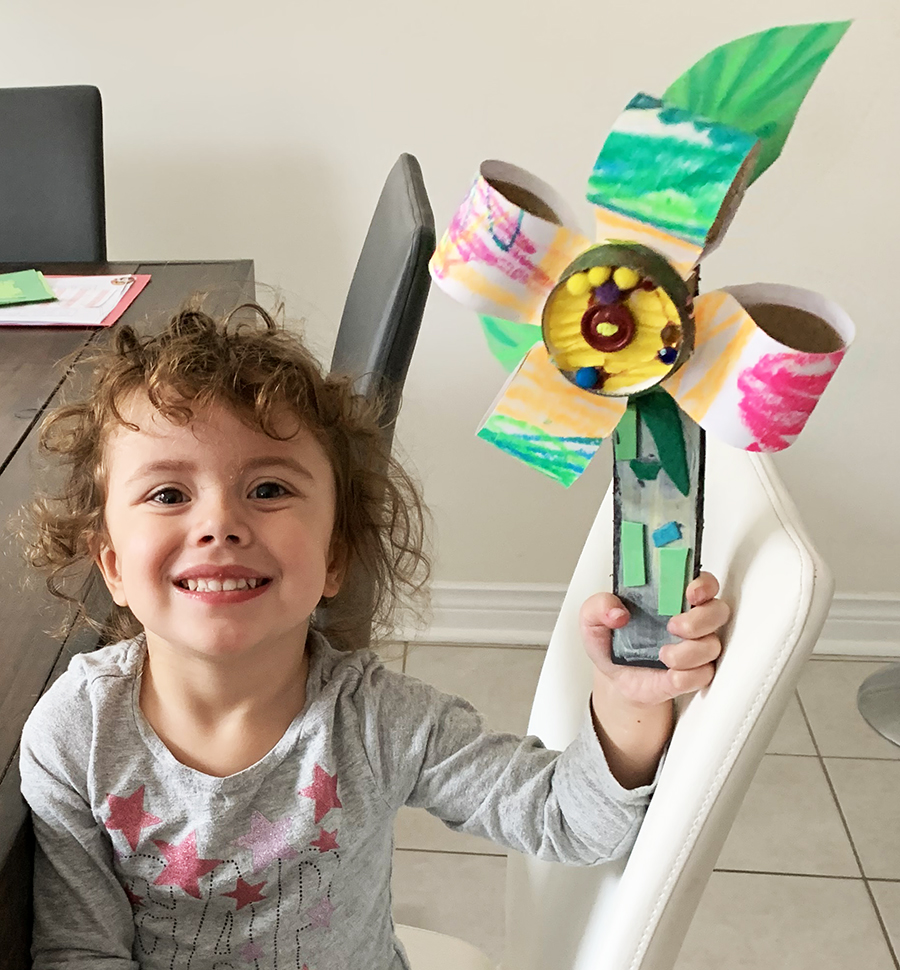 ---
Act out the life cycle of a flower, from tiny seed to blossoming flower.
---
The farmer plants the seed
The Farmer plants the seeds, The Farmer plants the seeds,(pretend to plant seeds) Ho, Ho, the dairy-o, The farmer plants the seeds. The sun comes out to shine... (make large circle with arms) The rain begins to fall... (hands flutter up and down) The seeds begin to grow... (children begin to rise) The farmer picks the crops... (pretend to pick crops) We all sit down to eat... (pretend to eat)
---
Discuss the life cycle of a flower.
How are butterflies and bees important to this life cycle?
---
---
We'd love to see your flowers! Leave us a comment below or share them with us on social media.