---
WHO AM I? a mixed media self portrait
Experiment with a mixed media self-portrait project using a variety of materials to express yourself.
---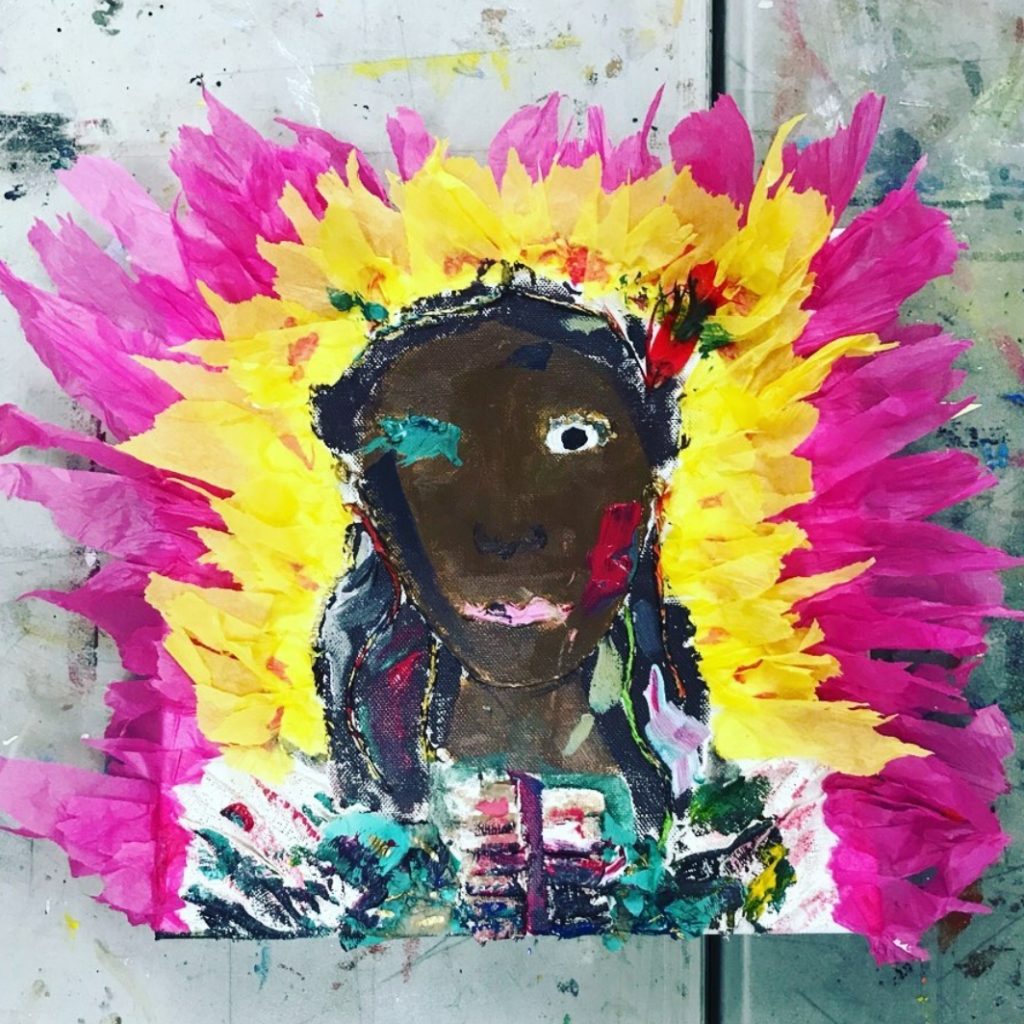 Have fun with this mixed media self-portrait project. Use your imagination, a variety of materials, as well as text, imagery and photography. By combining a layering effect and introducing photography and a form of journaling to art making, you can truly engage your imagination in a more sensory way. Don't be afraid to make bold choices and add personal items to your work. Remember there are no mistakes in art!
---
How does an artist interpret the self?
---
1 canvas, canvas board or Cartridge Paper
Letter size paper or a sketch pad
Paints that you have - Acrylic or Watercolour Paints
Brushes
Palette tray or paper plate
Water containers to wash brushes
Coloured permanent markers, oil pastels and/or wax crayons
Pencils
Glue Stick or white glue
Old Magazines, printed out words, written words etc.
Textured papers and/or specialty papers/foil (optional)
Photographs that you have permission to use or printed photos (optional)
Music that best represents you (optional)
---
Start out by researching the history of portraits.
Check out this great resource:
---
---
Can you find examples of interpretive or expressionistic portraits and portraits in the realist tradition? What are your thoughts on the two approaches?
---
Practice drawing someone else's portrait on a small sheet of paper or in a sketch pad. Use a live person or a photo.What about the proportions? How large should the features be in conjunction with each other?
---
Grab another sheet of paper or continue in your sketchpad. Look at yourself in a mirror. Now close your eyes and do a blind contour drawing of your own self-portrait. Make sure you keep in mind the scale of the paper and that the drawing should be as large as the paper. A true representation is not important for this exercise. It is more important that you are expressing yourself.
---
Put on music that best represents you. While listening to the music, write down words, phrases or symbols that you feel best describes and represents you on any paper or papers. Put this aside.
---
---
It's time to create the background for your self-portrait! Grab your canvas, canvas board or larger sheet of paper.• Paint a full background as the starting point of your project. Use acrylic or watercolour paint. The background should represent you in some way. Maybe it is a mood that you are setting with colours, in an abstract way. Maybe the background is a representation of a place. Focus on colours, shapes and mood, rather than creating a space that is accurately depicted. When you are done, set aside your background to dry.
---
Decide if you would like to use a self-portrait drawing that you create yourself, you can also use a photograph of yourself or an enlarged print out of the photo. You can also create a collage of a self-portrait of you!

If you choose to draw yourself, use a mirror or create a drawing of yourself from memory. Remember to keep in mind the size of your background. You will be adding your self-portrait to your background. Use colour markers, crayons, pencil crayons or just plain pencil.
If you choose to use a printed photograph, consider how you can embellish it. Can you use pastels to highlight features or add a hat, sunglasses or jewelry?
If you choose to collage your self-portrait, can you create features and cut them out or cut features out of a magazine?

Once your self-portrait is done, cut it out so that you have the outline of your face. Make sure the background is dry and glue the self-portrait onto the background.
---
---
Cut up the words and symbols/drawings that you wrote about yourself earlier. Glue these down on the background and around your self-portrait. Try layering items and over-lapping.Additionally, look through the magazines and cut out images, letters, words that you feel may represent you. All these papers can be collaged onto the painted canvas using glue.
---
---
Think about some of your hopes and dreams for the future. What would you like to explore? Where would you like to go? Is there a profession that you hope to get into? You can add further drawings, words and symbols that represent your dreams, hopes and wishes using oil pastels, permanent markers and/or specialty papers, jewels, sparkles, personal items etc. (whatever you have at home that you feel would add to your work). This will further individualize your art piece and continue the layering effect.
---
---
Write a biography or a story about yourself and add it to your piece or to the back of the work. Think of ways that you can exhibit your art. Is there a dedicated part of your house to make an art gallery? Can you hang your work on a wall and curate your own art show? What would you call your gallery?
---
---
We'd love to see your amazing self portraits! Leave us a comment below or share them with us on social media.