---
Collage landscape
This is the fifth in our series of DIY art activities for kids.
---
tiddler: the story-telling fish
By julia donaldson
Tiddler is late to school every day, and he always has an elaborate excuse for his teacher. One day, as Tiddler is thinking up his next story, a net sweeps him up and hauls him far away from his school. How will Tiddler find his way home? All he has to do is follow the trail of his biggest, fishiest story yet!
---
SHOP LOCAL (SHIPPING AVAILABLE):
---
Glass, Plastic or Aluminum Baking Tray
Small dishes (one for each colour plus an additional one for the oil)
Small spoons
Any type of oil
Paper towel
Food Colouring or Liquid Watercolour paints (diluted with water or white vinegar)
A heavier set paper such as cardstock or watercolour paper
Glue Stick
Scissors
Optional: shaped hole puncher (we have a star one at home)
---
first stage: creating patterned paper
1. Set out paper towel to lay your wet paintings to dry.

2. In separate containers add a drop of oil and a food colouring of your choice.

3. In a large baking dish add some water.4. Then add drops of the oil and food colour mixture.5. Now place some paper in the baking tray and watch the paper transform.
---
6. Repeat these steps with a few more sheets of paper.

7. Leave to dry overnight on a paper toweled area.
---
---
second stage: creating a landscape collage
1. Start with a blank piece of paper and a story or character. We like the tale of Tiddler by Julia Donaldson so we decided to create an ocean landscape.2. Take a look at the patterns on your coloured paper and paper towel pieces. What would work as the water, what would be a good pattern for the sun, Tiddler or fish, etc?3. Now start cutting your shapes. We did this step together since some kids might just be starting to work on their cutting skills.
---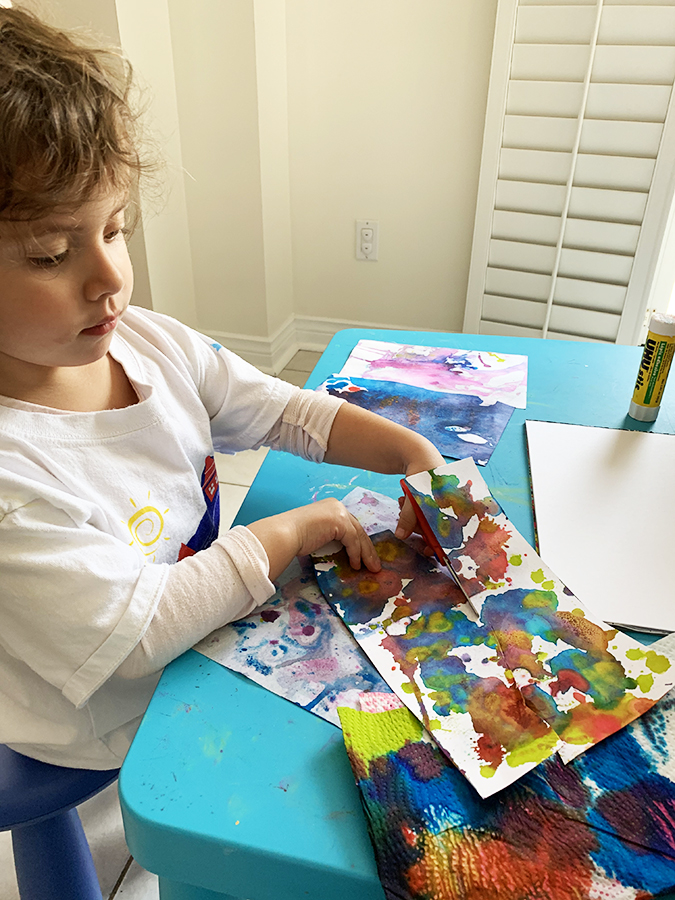 ---
4. Start gluing on your shapes with a glue stick. You'll need to be gentle when using the coloured paper towel.
---
5. Here's our first creation:
---
---
create another landscape inspired by another book
We took inspiration from the Very Hungry Caterpillar for our next landscape and made a night scene with a caterpillar.

BONUS: We froze our paper for this scene and also added stars since we have a star puncher at home.
---
You can add details with markers or oil pastel.
Make a frame for your creations with cardboard strips and the leftover marbled paper.
1, 2, 3, 4, 5, Once I Caught a Fish Alive One, Two, Three, Four, Five Once I caught a fish alive, Six, Seven, Eight, Nine, Ten, Then I threw him back again. Why did you let him go? Because her bit my finger so. Which finger did he bite? This little finger on my right.
---
LITTLE ARABELLA MILLER(to the tune of Twinkle, Twinkle Little Star) Little Arabella Miller had a fuzzy caterpillar. First it crawled upon her mother, Then upon her baby brother. They said: "Arabella Miller, put away that caterpillar"! Little Arabella Miller had a fuzzy caterpillar. First it crawled upon her brother, Then upon her dear grandmother. Gran said: "Arabella Miller How I love your caterpillar"!
---
---
---
Create your own narrative to go along with your landscape.
---
We'd love to see your landscapes! Leave us a comment below or share them with us on social media.