---
MAGIC WAND & CROWN
Another classic in our series of DIY art activities for kids.
---
CINDERELLA
By Chloe Perkins
The classic tale of Cinderella gets a fresh twist in this debut title of a brand-new board book series, Once Upon a World. With Mexico as the backdrop, and vibrant artwork from Mexican illustrator Sandra Equihua, Cinderella is still the same girl with a fairy godmother and a glass slipper—but she's totally reimagined. Once Upon a World offers a multicultural take on the fairy tales we all know and love. Because these tales are for everyone, everywhere.
---
SHOP LOCAL (SHIPPING AVAILABLE):
---
Cardboard or foamboard
Pencil
Dowel (you can use a chopstick, straw or bamboo skewer)
Metallic tempera paints
Glitter glue
White doilies
2 x Strip of paper (about 2" thick)
Scissors
Glue stick
Jewels, sequins or buttons
Hot glue gun
---
1. Select a shape for your wand. Now draw that shape on the cardboard. 2. Using scissors or an exacto knife, cut out the shape. We cut out two stars (one smaller) to create some layers to our wand.
---
3. Paint your wand using metallic tempera paint and paint both side of your shape.
---
4. Add some magic to your wand with some glitter glue. 5. Add some jewels to and sequins (or buttons) to your wand. Then set aside to dry. 6. With a hot glue gun (or masking tape) affix your shape onto the top of the dowel.
---
---
1. Paint the doilies with the tempera paints.
---
---
TIP: You can use a regular paint brush or a sponge brush for some of the colours.
---
3. Once dried, you can embellish your crown with jewels, sequins or buttons with your glue stick.
---
---
1. Insert the paper strip along the bottom of the doily and affix the second piece to either side of the strip (as shown).
---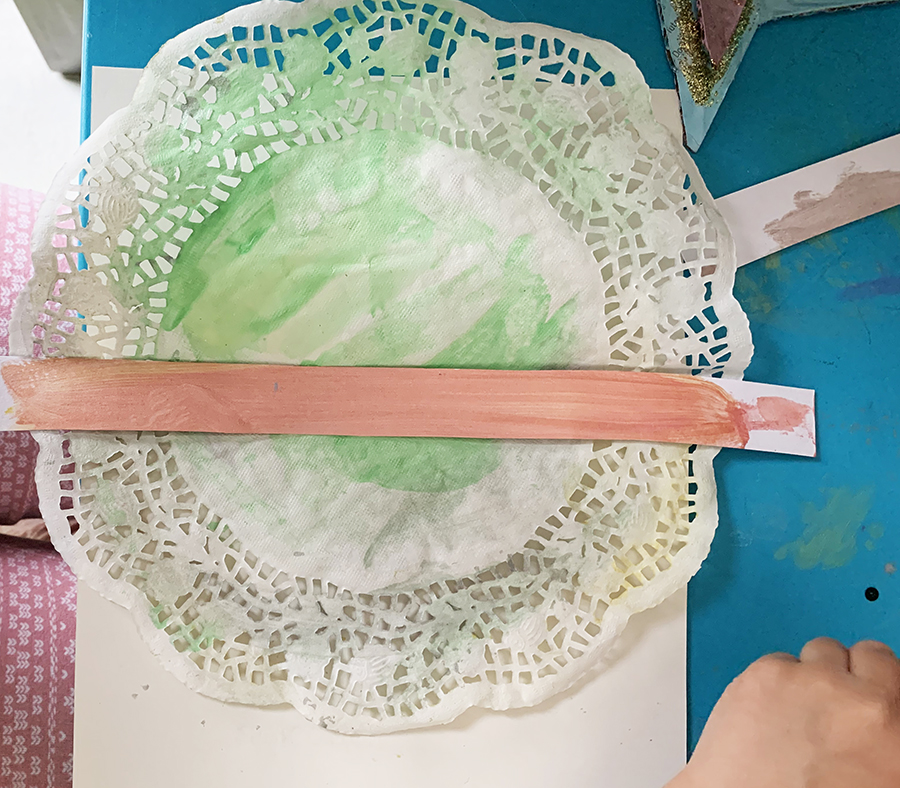 ---
2. With a glue stick glue the doily together and attach the other end of the strip. 3. Cut some of the smaller doilies to add to the sides of your crown (as shown in photo below).
---
---
Now you're ready to make magic!
---
---
Create a narrative behind these props.

Who is the character that uses the crown and wand?
Who are the other characters?
Where do they live?
What magic does the wand hold?
What happens in your story?

Now put on a play for your family to tell them all about your story.
We're a big fan of Bibbidi-Bobbidi-Boo. We sang the song and went around the house turning things into different animals!

What are your favourite songs about magic?
---
We'd love to see your magic wands and crowns! Leave us a comment below or share them with us on social media.