---
VAN GOGH-INSPIRED SUNFLOWERS
Another project in our series of DIY art activities for kids.
---
KATIE AND THE STARRY NIGHT
By JAMES MAYHEW
Join Katie as she steps into some of the most famous paintings in the world for an exciting art adventure!
The stars in Vincent van Gogh's painting are so beautiful that Katie can't resist reaching in and taking one. But what will she do when all the other stars come tumbling out of the painting, too? Will Katie be able to catch the stars before the gallery guard notices they've floated away?
---
SHOP LOCAL (SHIPPING AVAILABLE):
---
Watercolour paper (canvas board or cardboard will work as well)
Blue tempera paint or liquid watercolour paint
Shaving cream
Paint brush and plastic container
Plastic fork
Strip of watercolour paper (about 5" high)
Green tempera paint (any shade)
Cardstock or watercolour paper
Sharpie (any colour)
Watercolour crayons (oil pastel are fine to use)
Green foam paper or construction paper
Scissors
Glue stick
---
---
1. Mix shaving cream with blue paint. Stir until mixed but mixture still remains puffy. 2. Using a paint brush apply the shaving cream/paint mixture to the watercolour paper. 3. With a fork, scratch into the surface of the painting.
---
1. Take your strip of watercolour paper and apply various shades of green tempera paint. 2. Now we will add texture with a fork by scratching into the surface of the paint.
---
---
---
---
1. On a piece of cardstock or watercolour paper draw some shapes for the flowers and sun.

2. Now colour in your shapes using the watercolour crayons. These are fun to use, if you do not have any however, you can use oil pastel.

3. Once dry cut out the flowers and sun.
---
---
---
1. Apply the grass to the background using a glue stick. 2. Glue on the sun and flowers to the painting.
Bonus: We included green foam paper stems to the base of our flowers.
---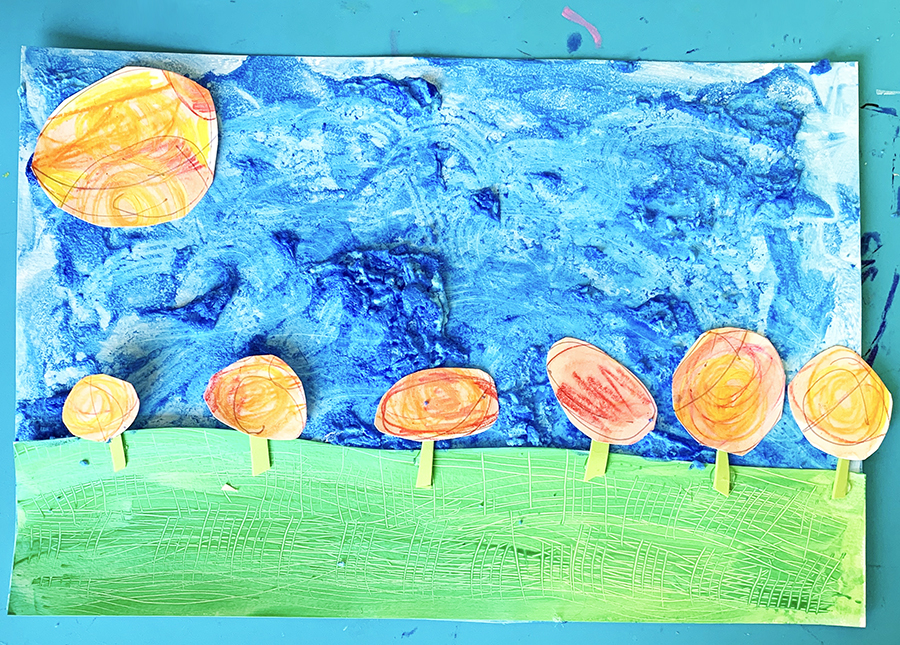 ---
Act out the life cycle of a flower. Act out the life cycle of a butterfly.
---
Five Little Flowers Five little flowers standing in the sun (hold up 5 fingers) See their heads nodding, bowing, one by one (make fingers nod and bow) Down down down ,falls the gentle rain (flutter fingers downward) And the five little flowers lift up their heads again (hold up five fingers)
---
Talk about the different seasons. When do flowers and trees start to bloom? Discuss the life cycle of a flower. Talk about how bees and butterflies help this process.
---
---
We'd love to see your sunflowers! Leave us a comment below or share them with us on social media.